By Dr. Dorian Jimenez, DPM
You just finished dinner and it's time to relax.  You take your usual comfortable spot in the house and set your drink on the side table.  The reading that you plan to do or show you plan to watch is ready to go and there's one last thing to do.  Reaching down after you've kicked off the shoes, you push the tops of your socks down and there are indentions circling your legs where the socks have been squeezing all day.
If this type of thing only happens occasionally after a long flight across the country then it's a relatively normal situation.  However, if this is the normal state of affairs then there is need for concern.
Chronically swollen ankles in which you are able to create indentions with a slow, firm push of the finger are likely the result of a conditions know as chronic venous insufficiency.  And if you have these types of symptoms, it's time for you to look into compression socks orcompression hosiery.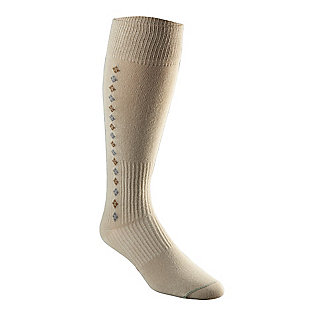 I'm a huge proponent of everyone wearing compression stockings.  In fact, if I had it my way, they would be the most popular type of sock worn.  While consulting a doctor regarding their use is recommended, I find myself singing the praises of compression stockings very frequently.  I understand the complaints:  they are hot, difficult to put on and take off, tight on the legs and sometimes make the legs itchy and dry.  Let me assure you, the benefits far outweigh these minor issues.
As we get older, we don't exactly run around like we did when we were 15 or 20, constantly asking our muscles to contract, creating the perfect pump for our young, healthy veins.  Instead, walking is slower, the muscles are not as strong, nor as active, and those young, healthy veins start to become older, weaker veins.  The fluid traveling through the veins moves slower and starts to build up making our legs feel heavy and full.
Compression stockings can combat this problem with daily use.  Those swollen ankles and feet can most often be controlled and brought back to a normal size.  Doing so is healthier for your legs and body overall.
Compression socks are also very useful for people who stand for long periods of time, or sitting in cramped, crowded conditions for long periods of time.  Workers in service-related jobs or frequent air travelers, regardless of their health, can benefit from wearing these socks.
FootSmart carries a wide assortment of compression socks for men and women and compression hosiery for women.
Related articles